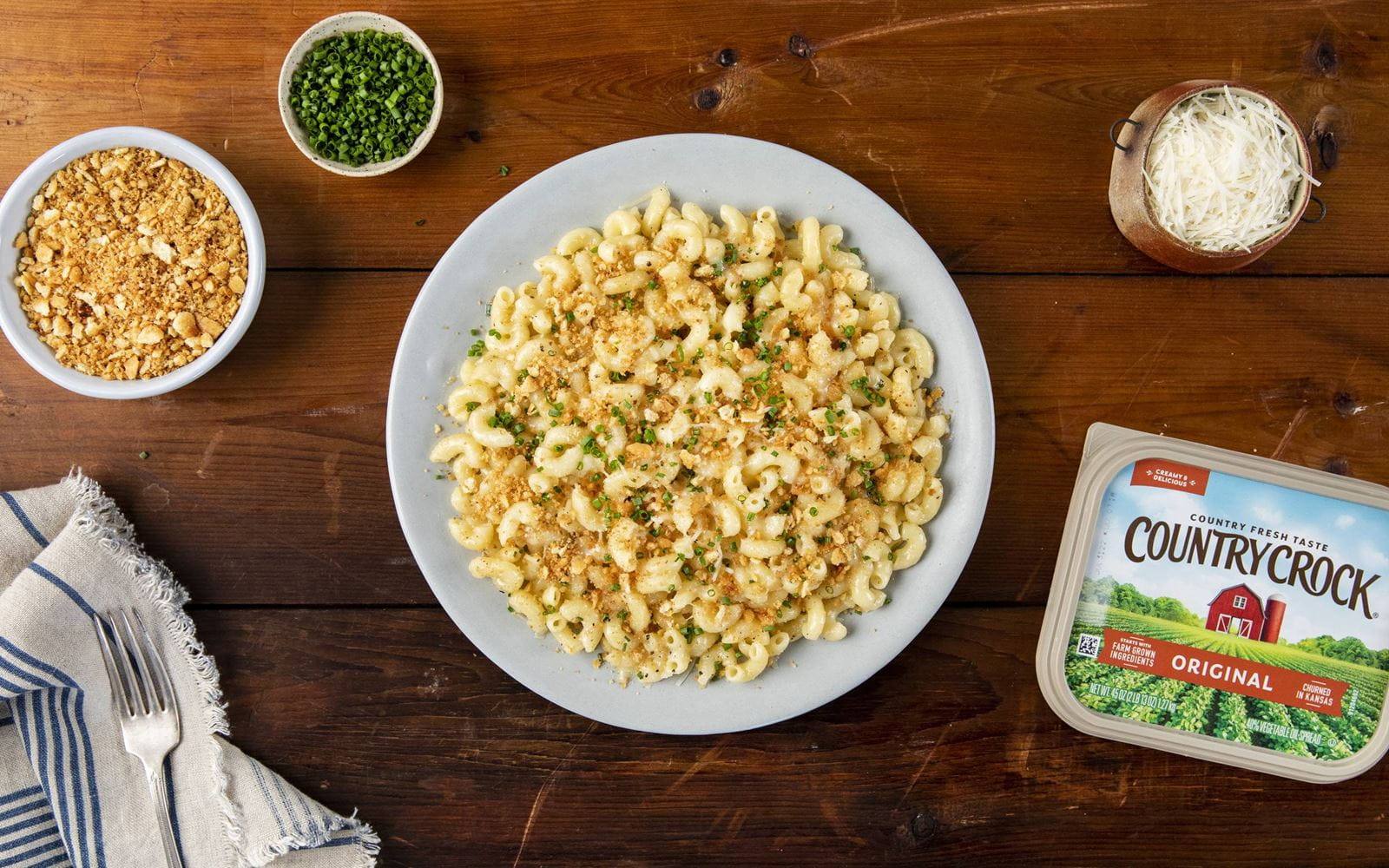 Cheesy Cracker Noodles
Cheesy Cracker Noodles
Prep time

10 min

Cooking time

20 min

Portions 6
Ingredients
1/2 cup (120 mL) crushed crackers, such as Ritz Crackers
1/2 cup (120 mL) Country Crock® Original Spread (or other suitable buttery spread), plus 1 1/2 tablespoons (22.5 mL) for the buttery crumbs
5 cups (1.25 L) elbow macaroni noodles
2 cups (480 mL) cheddar cheese, finely shredded
1 cup (240 mL) reserved pasta water
salt, to taste
1 1/2 teaspoons black pepper
1/2 cup (120 mL) grated Parmesan cheese, divided
1/4 cup (60 mL) chopped fresh chives
Instructions
Add the crackers to a large plastic storage bag and seal it shut, releasing any air from the bag. Use a rolling pin to crush the crackers into crumbs.
Melt 1 ½ tablespoons (22.5 mL) of Country Crock® Original Spread in a non-stick frying pan on medium heat, then add the crushed crackers to the pan. Toast crumbs for about 5 minutes, tossing frequently, until crunchy and golden brown.
Bring a large pot of salted water to boil and cook pasta according to package directions. I recommend cooking the pasta a minute less than the directions. Drain, but reserve 1 cup (240 mL) of the pasta water, and set aside.
Melt 1/2 cup (120 mL) of Country Crock® Original Spread into a large saucepan over medium heat. Once melted, add cheddar cheese, pasta water, salt, and pepper. Stir and cook until cheese is completely melted. Reduce the heat to a simmer and add the noodles to the pan.
Divide the macaroni into 6 bowls.
Garnish each bowl with the toasted cracker bread crumbs.
Top with a healthy sprinkle of Parmesan and chives.
Serve and enjoy!