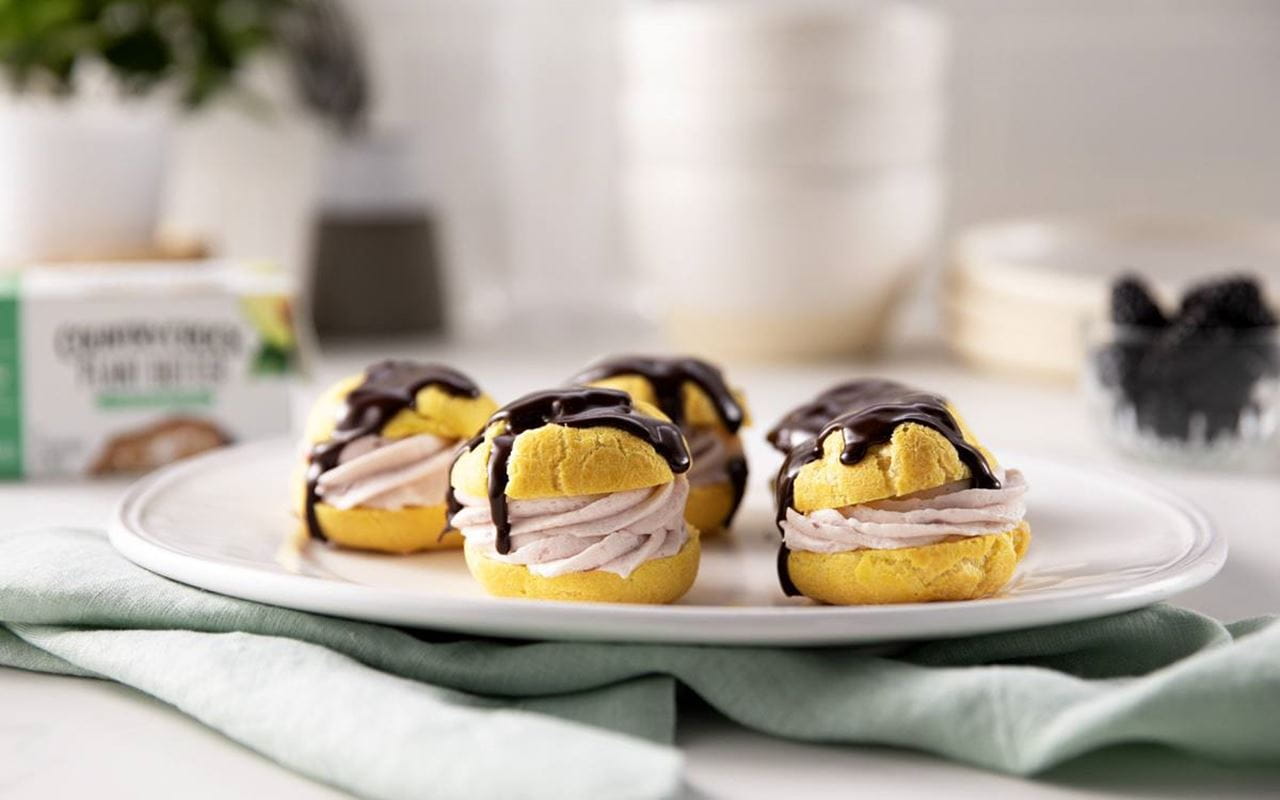 Blackberry Profiteroles
Blackberry Profiteroles
Be the first to rate this
Prep time

35 min

Ready in

Portions

Portions 24

Difficulty

Hard
Ingredients
Choux Pastry
Chocolate Sauce
Blackberry Cream Filling
Nutritional Guidelines (per serving)
(Nutrition information is calculated using an ingredient database and should be considered an estimate.)
Instructions
Preheat the oven to 425° F. Line baking sheets with parchment paper and set aside.
Measure the flour and set aside.
In a medium sized pot, add 1 cup of water, Country Crock® Plant Butter, sugar, and salt. Bring it to a boil over medium-high heat, stirring occasionally. Immediately remove from the heat and quickly stir in all of the flour. Return to the pot to heat and stir for about 2 minutes or until the dough is smooth and forms a ball.
Transfer your dough to the bowl of a stand mixer fitted with the paddle attachment, and let cool for about 5 minutes.
Add the eggs 1 at a time and beat until the mixture is smooth. Scrape the dough into a piping bag fitted with a plain tip. Pipe dough onto the lined baking sheets into 2-inch rounds (2 inches high). Smooth out the peaks and round tops with a moistened finger.
Bake at 425°F for 5 minutes then reduce the oven temperature to 375°, bake for 25 minutes or until puffy and golden brown. Turn the oven off and let the profiteroles rest in the closed oven for 5 -10 minutes. * Note this step ensures they won't deflate.
Remove from the baking sheets and transfer to wire racks to cool completely.
Place the chocolate and the Country Crock® Plant Cream in a small pot and use another to create a double boiler, over gently boiling water; the upper pan should not touch the water. When the chocolate is almost melted, remove from the heat. Stir gently with a wooden spoon until smooth.
Cut each profiterole in half horizontally. Separate the tops and bottoms onto separate racks, having one for tops and one for bottoms.
Add washed blackberries to a food processor and pulse until puréed. Remove the berries and pass through a fine mesh sieve. Set aside.
In a chilled bowl whip the Country Crock® Plant Cream on high until stiff peaks form. Add your strained blackberries and stir until combined.
Place a large dollop of blackberry cream onto each bottom half. Drizzle the tops with warm chocolate sauce and place on top of the blackberry cream filled bottom.
Garnish with fresh blackberries and serve immediately.
Tell us what you think below
Please enter your feedback before submit
You have already submitted your review, please change something to update.
Please enter your feedback below 500 characters
Error in submitting your feedback, please try later.
Nothing to add, thanks!
Thanks for sharing your feedback!
This pop-up will close automatically