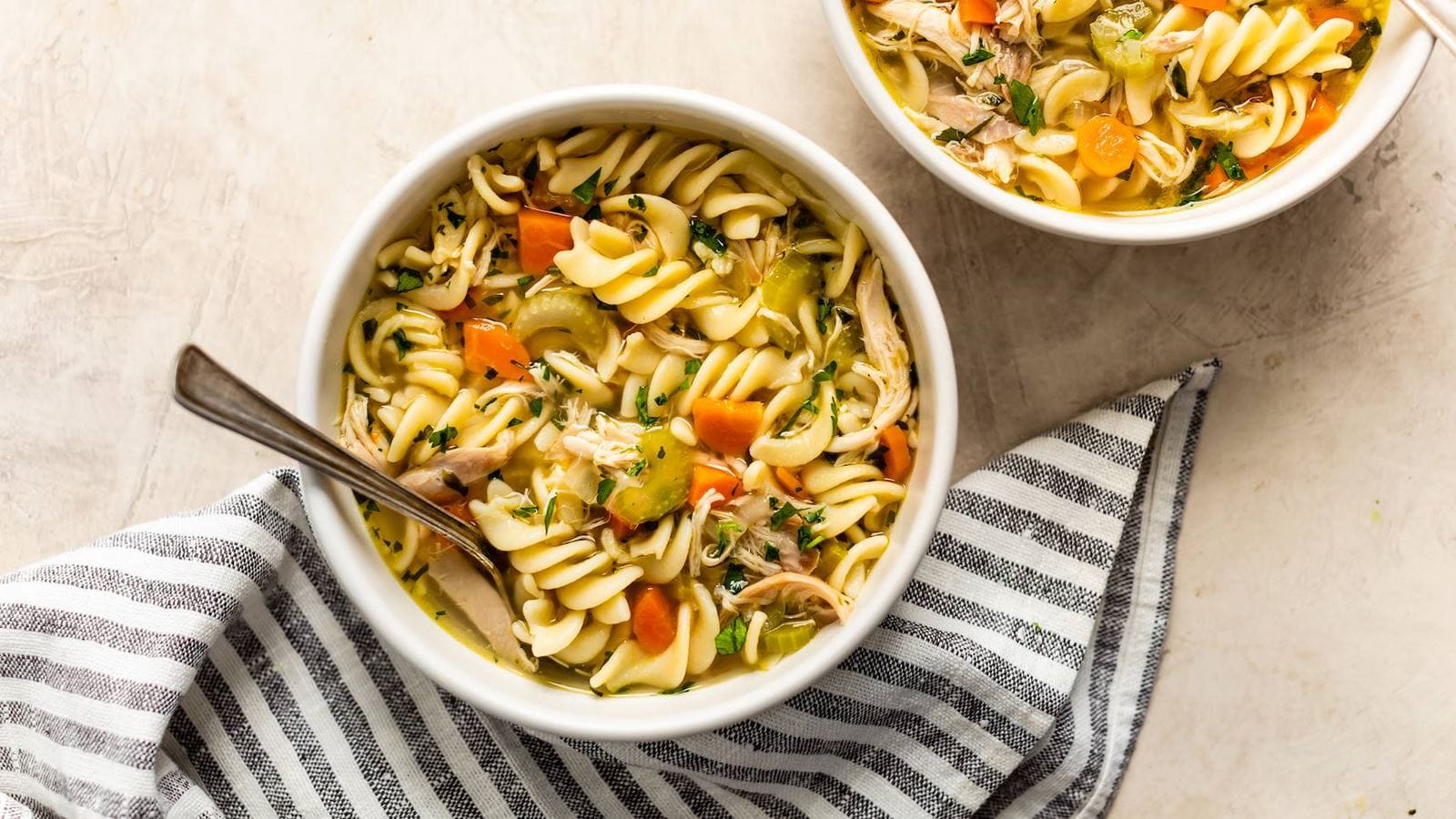 Cozy Chicken Noodle Soup
Cozy Chicken Noodle Soup
Be the first to rate this
Prep time

30 min

Ready in

Portions

6

Difficulty

Easy
Ingredients
2 tablespoons Country Crock® Original Spread

1 large onion, diced
2 carrots, peeled and diced
3 celery ribs, sliced
2 garlic cloves
2 cups rotisserie chicken, shredded
8 cups low-sodium chicken broth
2 bay leaves
2 sprigs fresh thyme
kosher salt and black pepper, to taste (about 1 teaspoon salt and 1/4 teaspoon pepper)
8 ounces egg noodles or fusilli, cooked
1/4 cup fresh parsley, minced
1 tablespoon fresh lemon juice
Nutritional Guidelines (per serving)
(Nutrition information is calculated using an ingredient database and should be considered an estimate.)
Instructions
Melt 2 tablespoons Country Crock® Original Spread in a large pot over medium-high heat. Add the onion, carrots, celery and garlic, and cook, stirring frequently, until the vegetables begin to soften, 3-5 minutes. Then add your shredded chicken and continue stirring for another minute to incorporate.
Add the broth, bay leaves, thyme, and 1/2 teaspoon salt and 1/4 teaspoon pepper. Bring to a boil and cook, covered, for about 1- minutes, just until the vegetables are tender when pierced with a fork.
Add the noodles, fresh parsley, and lemon juice. Taste and add more salt and pepper to your preference.
Tell us what you think below
Please enter your feedback before submit
You have already submitted your review, please change something to update.
Please enter your feedback below 500 characters
Error in submitting your feedback, please try later.
Nothing to add, thanks!
Thanks for sharing your feedback!
This pop-up will close automatically