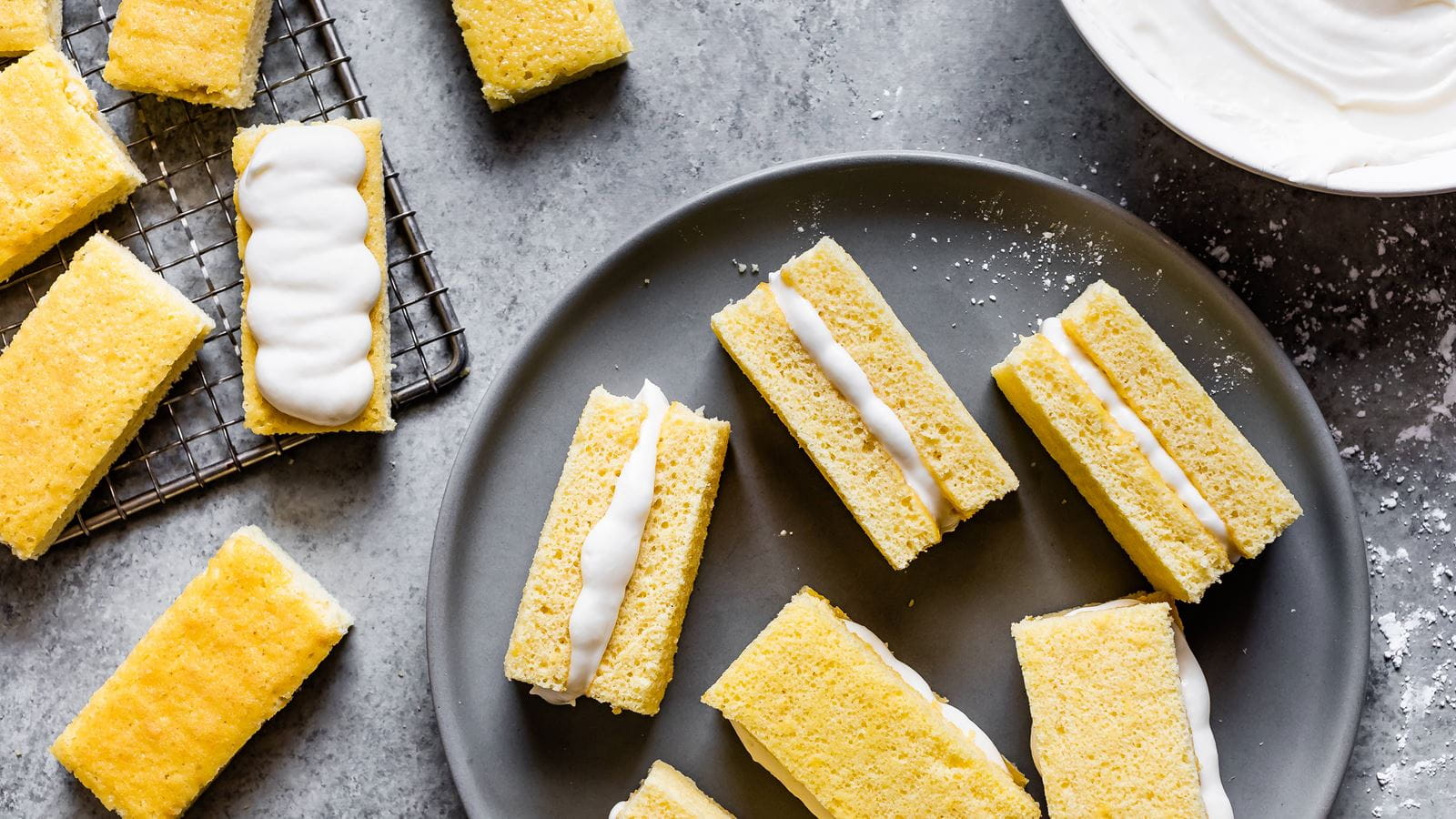 Creamy Sponge Cakes
Creamy Sponge Cakes
Be the first to rate this
Prep time

20 min

Ready in

Portions

10

Difficulty

Medium
Ingredients
Yellow Cake
Marshmallow Buttercream Filling
Nutritional Guidelines (per serving)
(Nutrition information is calculated using an ingredient database and should be considered an estimate.)
Instructions
Brush a non-stick 10x15 jelly roll pan with 1 tablespoon Country Crock spread and line the bottom and up the sides with parchment paper. Preheat oven to 350°F.
In a small bowl, sift together the flour, corn starch, baking powder, and salt. Set aside.
In a clean medium bowl with a hand mixer or the bowl of a stand mixer with the whisk attachment, whisk the egg whites and cream of tartar, starting on low speed and increasing to high speed until soft peaks form. When the beater is pulled outy, a peak should rise and the very tip should fall. Set aside or transfer to another bowl to continue using the stand mixer.
In a large mixing bowl with a hand mixer or the bowl of the stand mixer (no need to clean it), mix the egg yolks on medium speed, slowly pouring in the sugar. Increase the speed and beat until pale yellow and forms thick ribbons.
Add the vanilla extract, melted and cooled Country Crock spread and mix until just combined, scraping down the sides as needed.
With a rubber spatula, fold in the dry ingredients until just incorporated, without overmixing. Fold in 1/3 of the whipped egg whites until incorporated, then carefully fold in the remaining whipped egg whites until just combined.
Pour into prepared baking pan and evenly spread the batter over the pan using an offset spatula. Bake for 15-17 minutes, until it gently springs back when pressed.
Let it cool for 5 minutes in the pan. Place a wire rack over the top and flip the cake out of the pan. Remove the parchment paper and place a baking sheet or large cutting board over the top to turn the cake back right-side up. Let cool completely.
Meanwhile prepare the marshmallow cream filling. In a medium mixing bowl with a hand mixer or rubber spatula, mix the Country Crock spread with powdered sugar and vanilla until smooth. Use a rubber spatula to carefully fold in the marshmallow fluff until just combined.
Cut the cake into 20 rectangles (2 x 3.75). Top 10 of them with marshmallow cream filling using either a piping bag with a ½-inch round tip or a knife. Invert the remaining cake rectangles on top of the filling to make the Creamy Sponge Cake. Serve immediately or store in an airtight container for up to 2 days.
Tell us what you think below
Please enter your feedback before submit
You have already submitted your review, please change something to update.
Please enter your feedback below 500 characters
Error in submitting your feedback, please try later.
Nothing to add, thanks!
Thanks for sharing your feedback!
This pop-up will close automatically