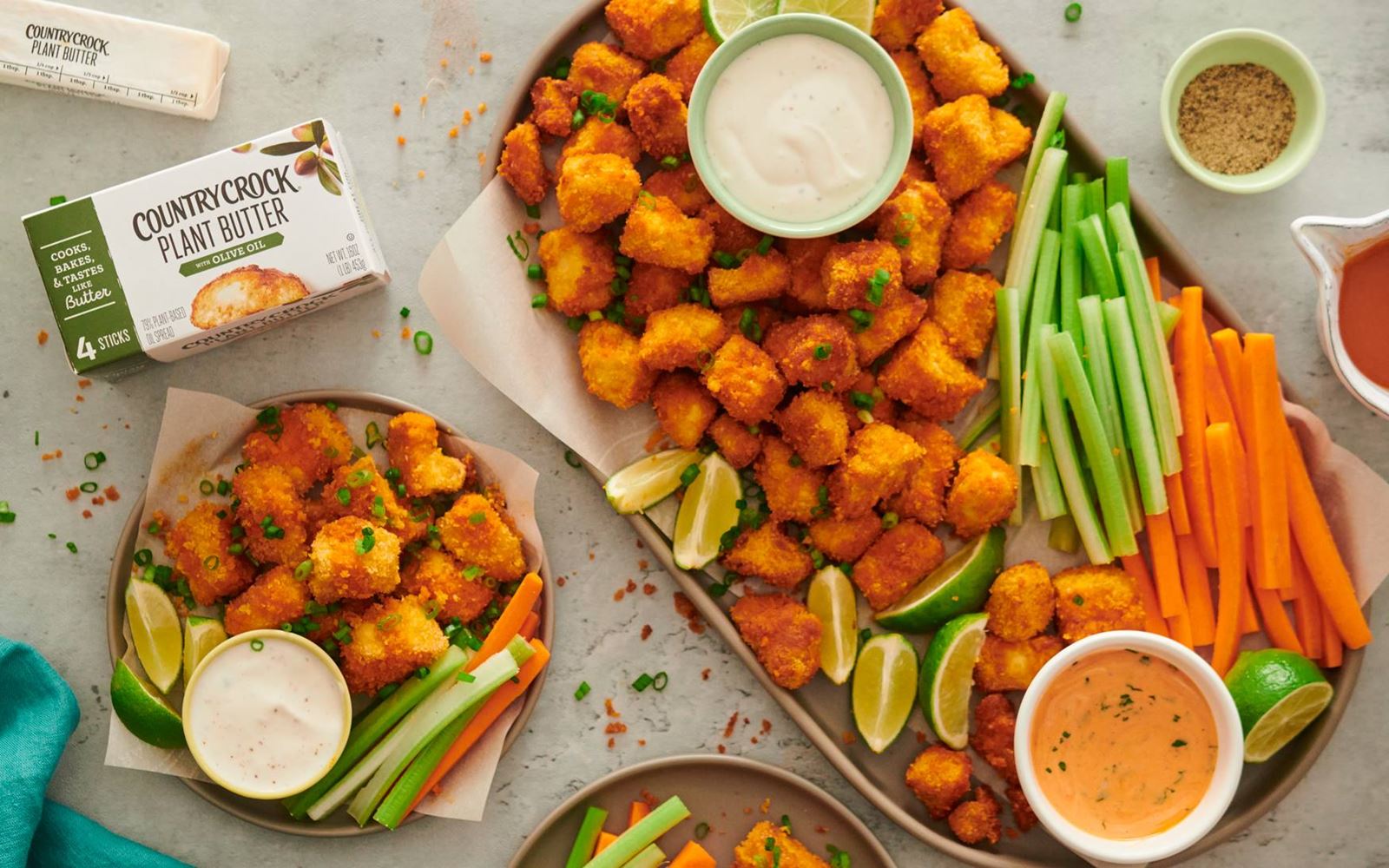 Crispy Vegan Buffalo Tofu Nuggets
Crispy Vegan Buffalo Tofu Nuggets
Be the first to rate this
Prep time

40 min

Ready in

Portions

2

Difficulty

Medium
Ingredients
For Country Crock® Plant Butter Buffalo Wing Sauce
For serving:
Lime wedges, Celery, Carrot, and Dipping sauces of choice
Nutritional Guidelines (per serving)
(Nutrition information is calculated using an ingredient database and should be considered an estimate.)
Instructions
Preheat the oven to 390 F.
Line a baking sheet with parchment paper, set aside.
Remove tofu from packaging and drain excess water from it. Now, wrap the tofu in a clean paper towel and put a heavy cast iron skillet on top of it for 30 minutes to remove additional water.
Meanwhile, in a mixing bowl, add melted Country Crock Plant Butter® and mix in with buffalo sauce and cornstarch to make smooth batter.
Hand rip tofu into 1 to 1.5 inch pieces. Coat each nugget in the buffalo batter mixture and then roll the tofu in panko breadcrumbs.
Add prepared tofu nuggets to the parchment lined baking sheet, and bake for 15 to 20 minutes, until tofu nuggets become golden and crispy.
While the nuggets are baking, prepare a Country Crock® Plant Butter-buffalo sauce by mixing in melted Country Crock Plant Butter® and buffalo sauce.
Drizzle sauce over the freshly baked golden crispy vegan tofu nuggets and sprinkle green onion to garnish
Serve crispy vegan tofu buffalo nuggets with celery, carrots and dipping sauces to enjoy!
Tell us what you think below
Please enter your feedback before submit
You have already submitted your review, please change something to update.
Please enter your feedback below 500 characters
Error in submitting your feedback, please try later.
Nothing to add, thanks!
Thanks for sharing your feedback!
This pop-up will close automatically