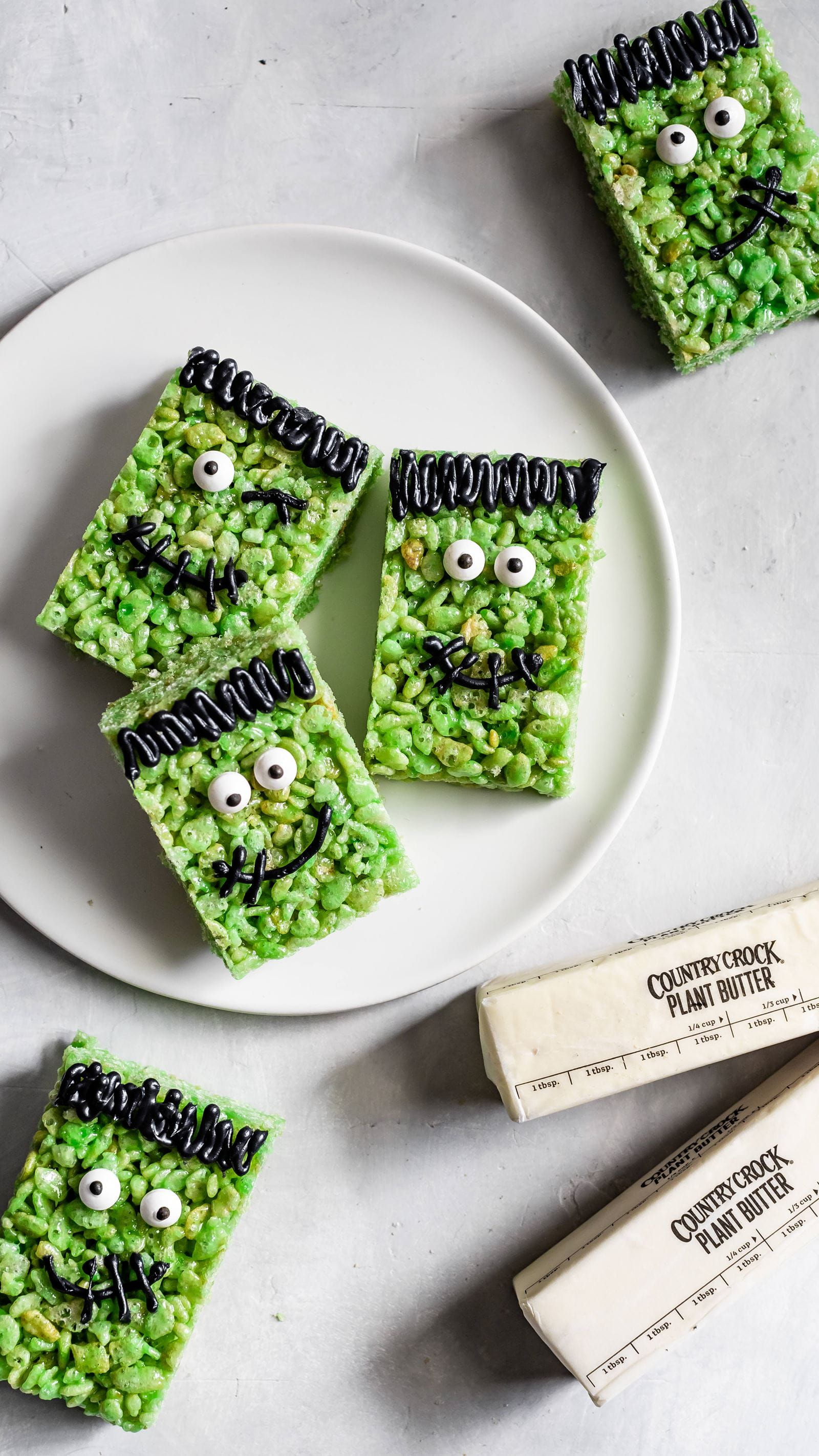 Frankenstein Rice Krispie Treats
Frankenstein Rice Krispie Treats
Be the first to rate this
Portions

16

Difficulty

Easy
Ingredients
Rice Krispie Treats
Icing
1 1/2 cups powdered sugar, sifted
2 tablespoons oat milk (or other non-dairy milk)
1 tablespoon corn syrup
black gel food color
candy eyeballs
Nutritional Guidelines (per serving)
(Nutrition information is calculated using an ingredient database and should be considered an estimate.)
Instructions
Line a 9 x 13" baking pan with parchment paper.
In a large pot, melt and brown the plant butter over medium-low heat, stirring frequently. As it heats, it will turn light golden brown.
Lower the heat and add the marshmallows and vanilla, stirring just until all marshmallows are melted. Remove from heat and quickly stir in a few drops of gel green food coloring. Aim for your marshmallows to be more saturated than you want the final treats because it will lighten up when the cereal is added. Work quickly because overcooking the marshmallows will lead to crunchy treats.
Add the rice crisps cereal and salt, and stir quickly to evenly coat. Spread the cereal evenly in the parchment-lined dish and let cool completely, about 20-30 minutes. Cut into 16 rectangles.
Meanwhile prepare the icing. Whisk together the powdered sugar, oat milk, melted plant butter, corn syrup, and several drops of black gel food coloring. This icing should be very thick like frosting to hold its shape when piped. If your icing is too thin, add a bit of powdered sugar, if too thick, add a tiny bit more oat milk. Place icing in a piping bag with a small round tip or a plastic bag with the very tip cut off. Pipe hair and faces on the treats and top with eyeballs, using icing to secure them.
Tell us what you think below
Please enter your feedback before submit
You have already submitted your review, please change something to update.
Please enter your feedback below 500 characters
Error in submitting your feedback, please try later.
Nothing to add, thanks!
Thanks for sharing your feedback!
This pop-up will close automatically