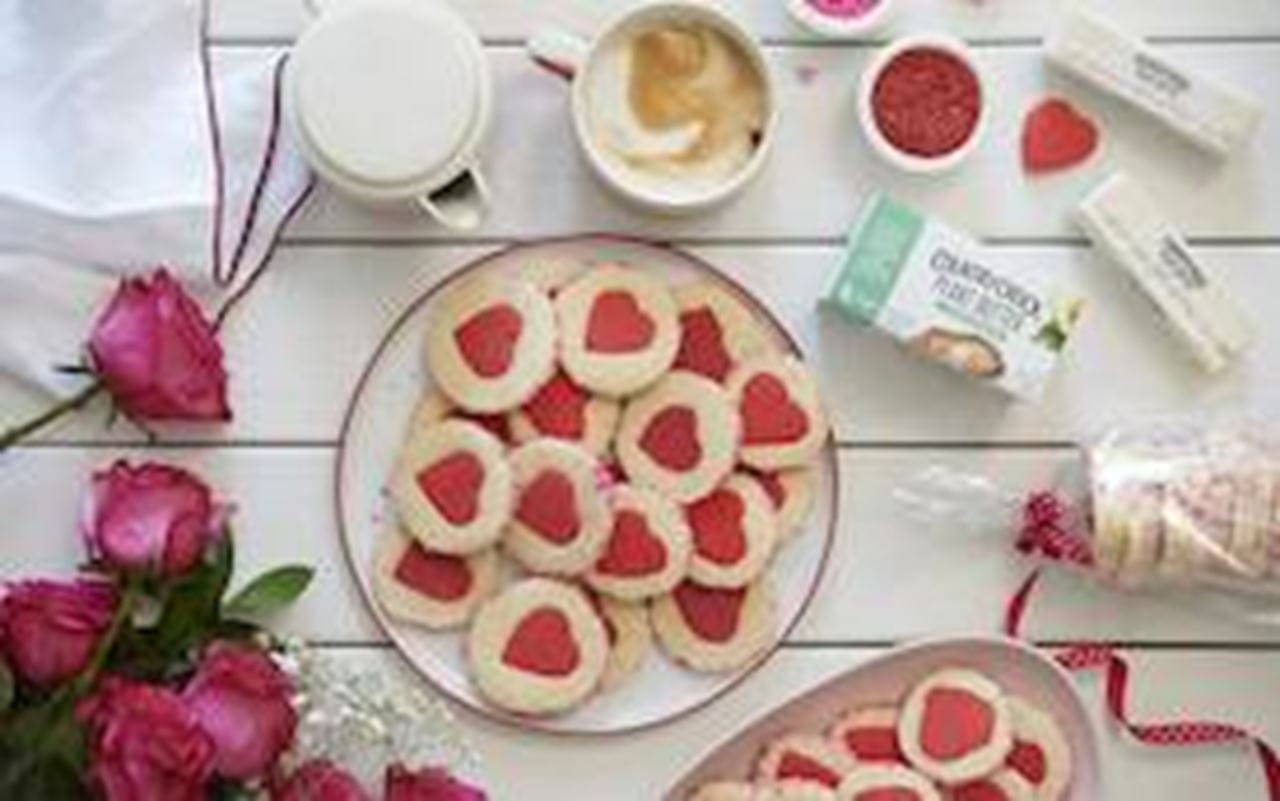 Homemade Sweetheart Cookies
Homemade Sweetheart Cookies
Be the first to rate this
Prep time

2 hr

Ready in

Portions

24

Difficulty

Hard
Nutritional Guidelines (per serving)
(Nutrition information is calculated using an ingredient database and should be considered an estimate.)
Instructions
In a large bowl, stir the dry ingredients - flour, salt, and baking powder. Set aside.
In a mixing bowl, add Country Crock Plant Butter and sugar and beat with an electric mixer until smooth and fluffy, approximately 2 minutes on medium high speed.
Whisk in egg and vanilla extract, until combined.
Slowly add the flour mixture to the wet ingredients on low speed until the dough comes together. Be careful not to overmix.
Separate 1/3rd of the dough in a bowl and set aside the remaining dough. Add edible red food color to the 1/3rd of dough, and knead well until the color of dough is uniform.
Roll the red dough about 1/2 inch thick and cut out heart shapes with a cookie cutter. Stack all hearts into a log. Roll the remaining red dough again to repeat this process to make as many hearts as possible. Wrap heart shaped dough log with cling wrap and refrigerate for 30 minutes.
Roll the remaining dough into thin long strips that are not too thick.
Take out the heart log from the refrigerator and cover it up with regular dough strips from all sides to make a log.
Roll this log onto a tray sprinkled with flour, cover with cling wrap, and refrigerate for at least 2 hours (or overnight).
When ready to bake, preheat the oven to 350 F. Line a baking sheet with parchment paper and set aside.
Slice the log into ½ inch thick slices and place onto the prepared lined baking sheet, leaving about 1 inch gaps between each cookie.
Bake for 10 minutes or until cookies are barely golden brown from the bottom. Remove from the oven and cool for 2 minutes. Transfer cookies to a cooling rack.
Serve and enjoy once cookies are completely cool.
Tell us what you think below
Please enter your feedback before submit
You have already submitted your review, please change something to update.
Please enter your feedback below 500 characters
Error in submitting your feedback, please try later.
Nothing to add, thanks!
Thanks for sharing your feedback!
This pop-up will close automatically