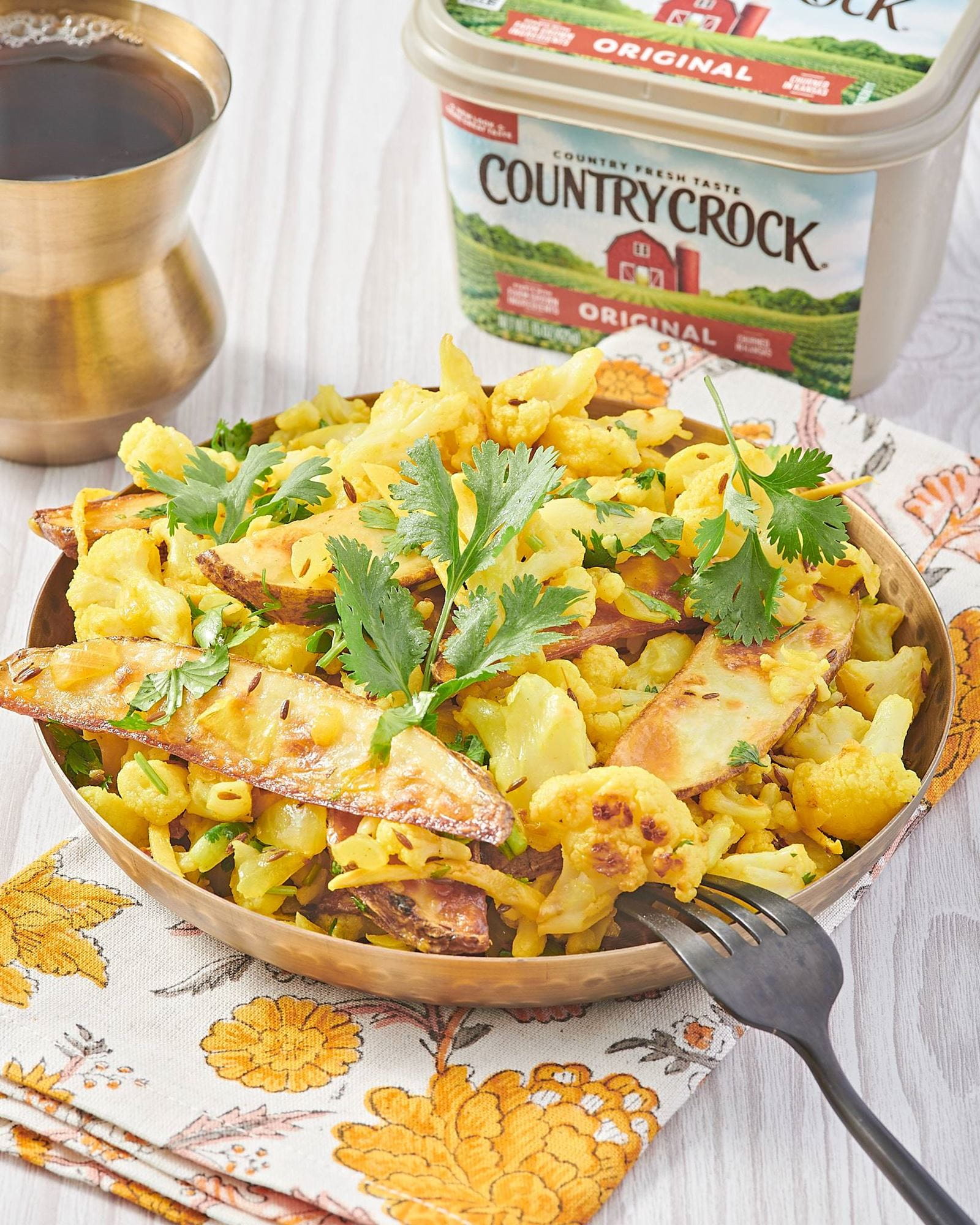 Indian Cauliflower and Potatoes
Indian Cauliflower and Potatoes
Be the first to rate this
Prep time

15 min

Ready in

Portions

Portions 4
Ingredients
2 russet potatoes, cut into thin wedges
1 medium cauliflower, cut into bite-size pieces

5 tablespoons Country Crock Plant Butter Tub with Olive Oil, divided

1 teaspoon cumin seeds
1/2 teaspoon ground turmeric
1 small onion, finely chopped
1/2 teaspoon crushed red pepper, or more to taste
1 '' piece fresh ginger, cut into matchsticks
1 tablespoon lime juice
1 teaspoon salt
1/2 cup chopped cilantro
basmati rice, for serving
Nutritional Guidelines (per serving)
(Nutrition information is calculated using an ingredient database and should be considered an estimate.)
Instructions
Preheat over to 400 degrees F. Line 2 baking sheets with parchment paper.
Place cauliflower and potatoes onto baking sheets, dividing evenly. Melt 3 tablespoons Country Crock® Plant Butter, and drizzle over cauliflower and potatoes. Roast for 30 minutes, or until vegetables are fork tender and slightly golden brown. Toss after 15 minutes.
In a large pan, melt remaining Country Crock® Plant Butter over medium-high heat. Add cumin seeds and cook until fragrant, 1 minute or less. Reduce heat and stir in turmeric. Add onion and sauté until translucent, 3-5 minutes. Add crush red pepper and ginger, and cook for about 1 minute.
Transfer roasted cauliflower and potatoes to pan. Add salt and stir well to combine all ingredients together. Cook for about 5 minutes. Add lime juice and cilantro. Serve warm as a side dish, or with basmati rice for a complete meal.
Tell us what you think below
Please enter your feedback before submit
You have already submitted your review, please change something to update.
Please enter your feedback below 500 characters
Error in submitting your feedback, please try later.
Nothing to add, thanks!
Thanks for sharing your feedback!
This pop-up will close automatically