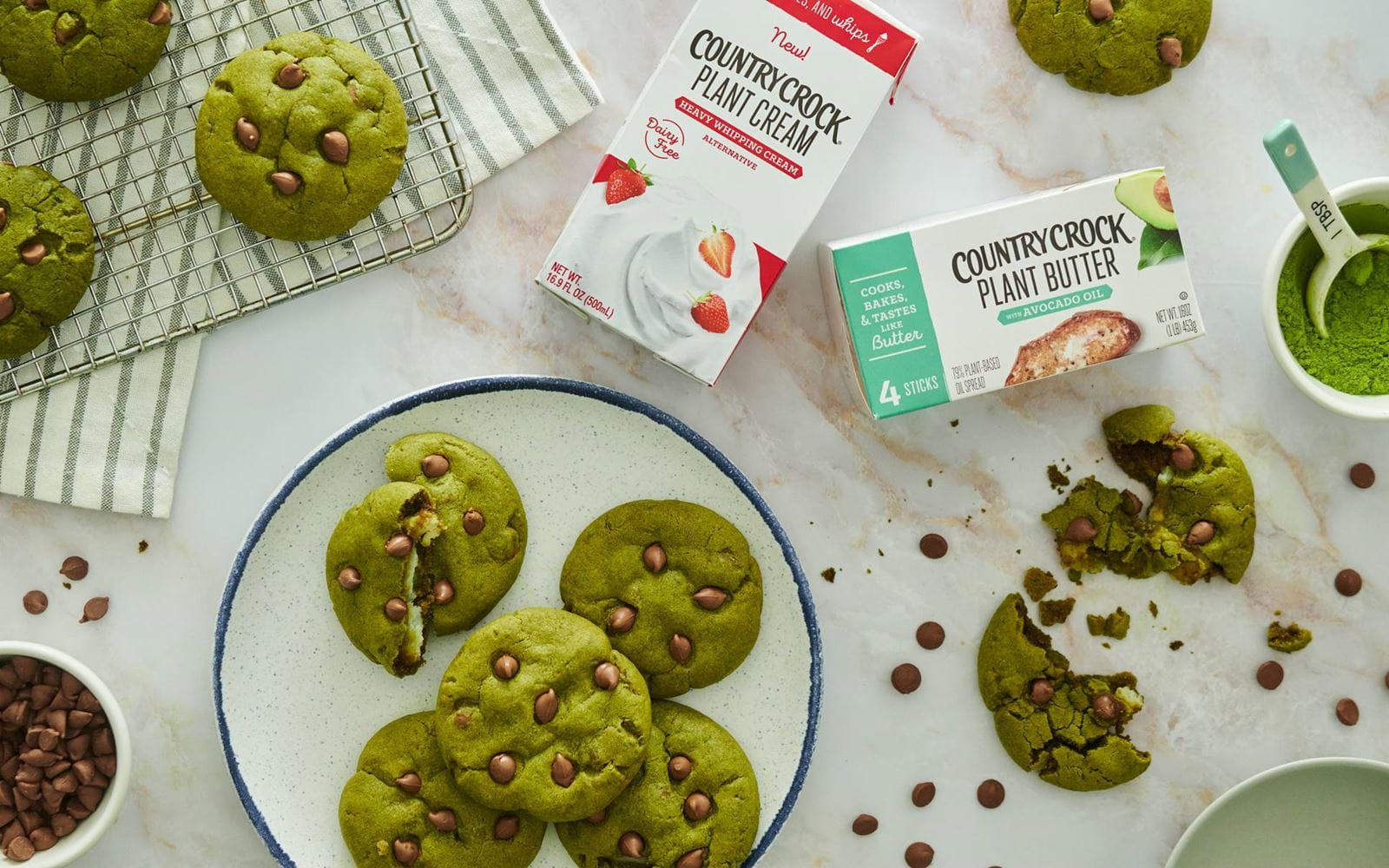 Matcha Mochi Cookies
Matcha Mochi Cookies
Be the first to rate this
Prep time

45 min

Ready in

Portions

Portions 12
Ingredients
For Mochi
For Matcha Cookie Dough
Nutritional Guidelines (per serving)
(Nutrition information is calculated using an ingredient database and should be considered an estimate.)
Instructions
Preheat the oven to 350 F.
Line a baking sheet with parchment paper, set aside.
For mochi: In a medium microwave safe mixing bowl, add mochiko flour, sugar and Country Crock Plant Cream, and whisk until no lumps remain.
Cover the bowl with plastic wrap and microwave on high for 2 minutes.
Uncover, and mix the mochi filling with a spatula and set aside for 10 minutes to cool.
Once the mochi is cool enough to handle, grease your hands with Country Crock Plant Butter, then make 12 equal portions of mochi and roll them into balls, set aside.
For matcha cookie dough: in a large mixing bowl, beat Country Crock Plant Butter, sugar, and brown sugar, until smooth and creamy.
Now add the egg (or egg replacer) and mix until combined.
Add flour, baking soda, salt and matcha powder to the Plant Butter-sugar mixture, mix until fully combined. Do not overmix.
Once the dough is ready, fold in the chocolate chips and refrigerate the dough for at least 30 minutes.
Divide the cookie dough into 12 equal portions and fill each portion with mochi and roll into a ball, until mochi is completely covered with the cookie dough.
Bake the mochi matcha cookies for 10-12 minutes.
Remove the cookies from the oven but let them sit on the baking sheet for 10-15 minutes before transferring on a cooling rack.
Serve once cooled and best enjoyed when fresh. Enjoy!
Tell us what you think below
Please enter your feedback before submit
You have already submitted your review, please change something to update.
Please enter your feedback below 500 characters
Error in submitting your feedback, please try later.
Nothing to add, thanks!
Thanks for sharing your feedback!
This pop-up will close automatically