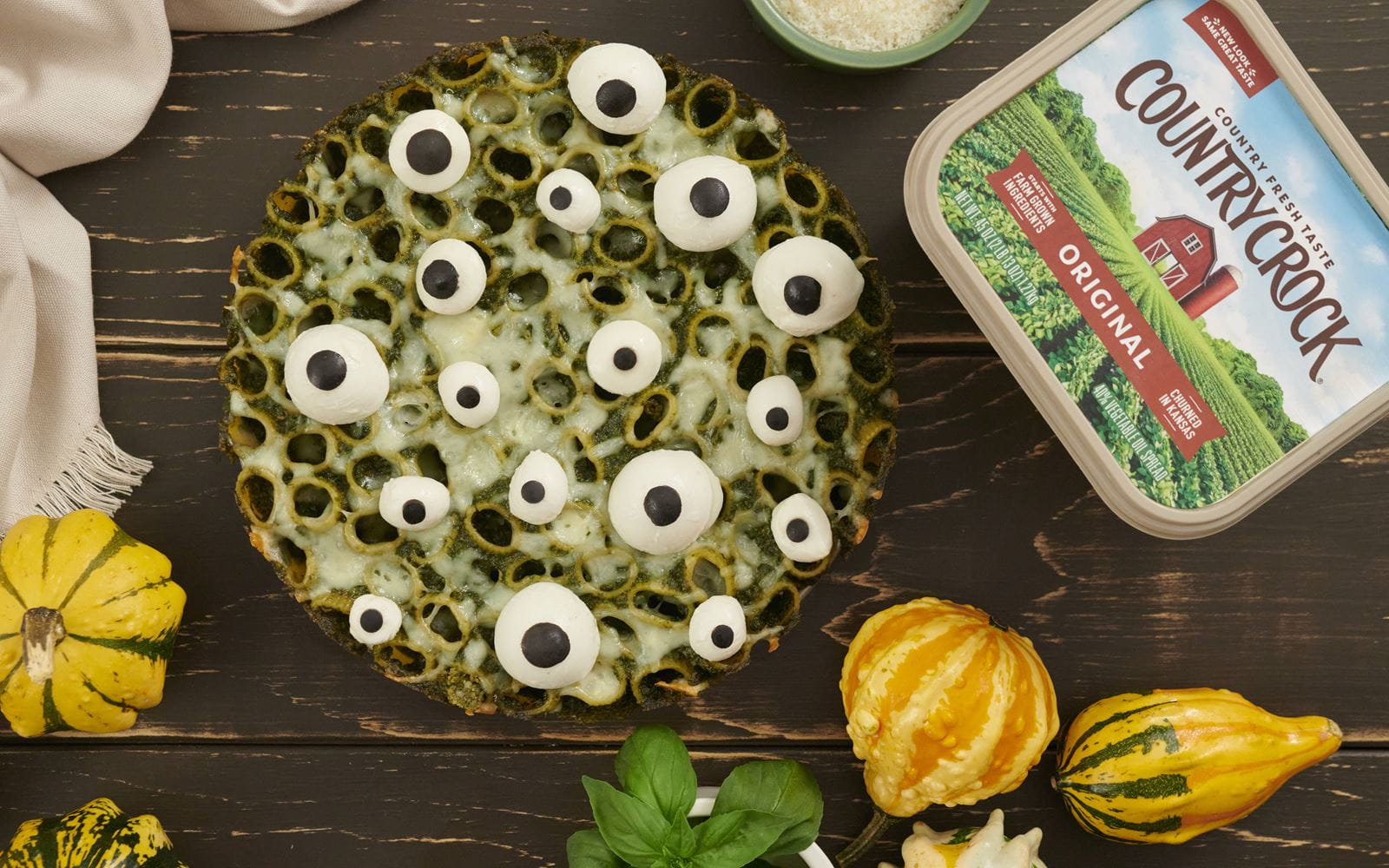 Pasta P-Eye Monster
Pasta P-Eye Monster
Be the first to rate this
Prep time

15 min

Ready in

Portions

12

Difficulty

Medium
Ingredients
For Pesto Sauce
6 cups basil
6 cups spinach
1 cup pine nuts, toasted
6-8 garlic cloves, minced
1 1/2 cups extra virgin olive oil
1 1/2 cups Parmesan, grated
salt to taste
Nutritional Guidelines (per serving)
(Nutrition information is calculated using an ingredient database and should be considered an estimate.)
Instructions
Preheat the oven to 400F and generously grease a 9 inch springform pan with Country Crock spread.
Bring a large pot of salted water to a boil. Cook the pasta until al dente, approximately 8 minutes (or according to package directions) and transfer to a bowl.
Toss the cooked pasta with melted Country Crock and parmesan until pasta is well coated.
Layer the pasta in a springform pan until it is filled. Pour pesto sauce over the noodles. Make sure the sauce fills inside the pasta too.
Bake for 15 minutes and remove. Add mozzarella on top and bake for an additional 15 minutes.
Remove pasta from the oven and let it cool for 10-15 minutes. Then, remove the outer ring of the springform pan.
Add bocconcini rounds topped with sliced black olive ends to make monster eyes.
Slice and serve.
To make the pesto sauce
In a food processor, add the pine nuts, parmesan, garlic and pulse until finely ground.
Add basil and spinach, and with the food processor running, add the olive oil slowly in a steady stream until the pesto is smooth. Add salt to taste.
Tell us what you think below
Please enter your feedback before submit
You have already submitted your review, please change something to update.
Please enter your feedback below 500 characters
Error in submitting your feedback, please try later.
Nothing to add, thanks!
Thanks for sharing your feedback!
This pop-up will close automatically