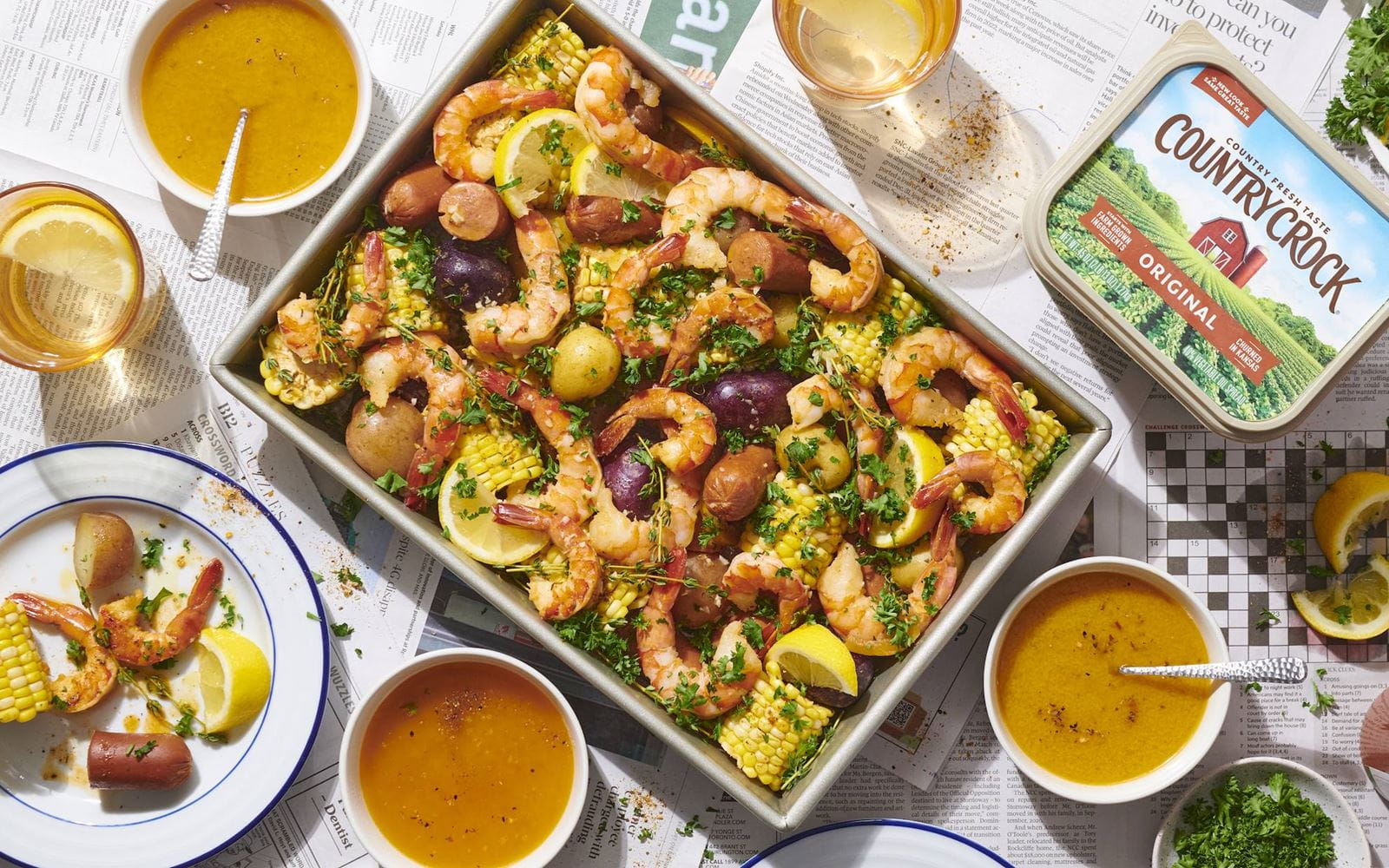 Seafood Boil and Sauce
Seafood Boil and Sauce
Be the first to rate this
Prep time

15 min

Ready in

Portions

Portions 4
Ingredients
For the boil sauce:
For the shrimp boil
2 lemons, sliced
4 bay leaves
salt, to taste
20 -25 whole black peppercorn
4 tablespoons seafood seasoning
10 -12 thyme sprigs
10 -12 small mixed potatoes
4 -6 smoked pork sausages, cut into 2'' pieces
2 onions, peeled and quartered
8 ears of corn on the cob, cut horizontally into 2'' pieces
32 fresh large shrimp, peeled with tail
Nutritional Guidelines (per serving)
(Nutrition information is calculated using an ingredient database and should be considered an estimate.)
Instructions
For the Boil Sauce:
In a small bowl add all dry spices and keep aside.
In a small pan over medium heat, melt Country Crock® Original Spread. Add minced garlic and cook for 1-2 minutes.
Add dry spices to the pan and cook for an additional 1-2 minutes. Remove from heat, set aside.
For the Shrimp Boil:
In a large stockpot, add 10-quarts water, lemon slices, bay leaves, salt, black peppercorns, seafood seasoning, thyme sprigs, and bring to a rolling boil.
Add the potatoes and return to boil. Cook for 7 minutes.
Add the sausages and the onions, return to boil, and cook for 5 minutes.
Add the corn, return to boil, and cook for 5-7 minutes or until the potatoes are tender.
Add the shrimp and cook for about 3 minutes.
Drain through a large colander and transfer the shrimp boil to a large tray. Squeeze lemon juice on top.
Drizzle the Country Crock® boil sauce on top, and garnish with parsley.
Serve the shrimp boil with more bowls of Country Crock® boil sauce for dipping and enjoy!
Tell us what you think below
Please enter your feedback before submit
You have already submitted your review, please change something to update.
Please enter your feedback below 500 characters
Error in submitting your feedback, please try later.
Nothing to add, thanks!
Thanks for sharing your feedback!
This pop-up will close automatically