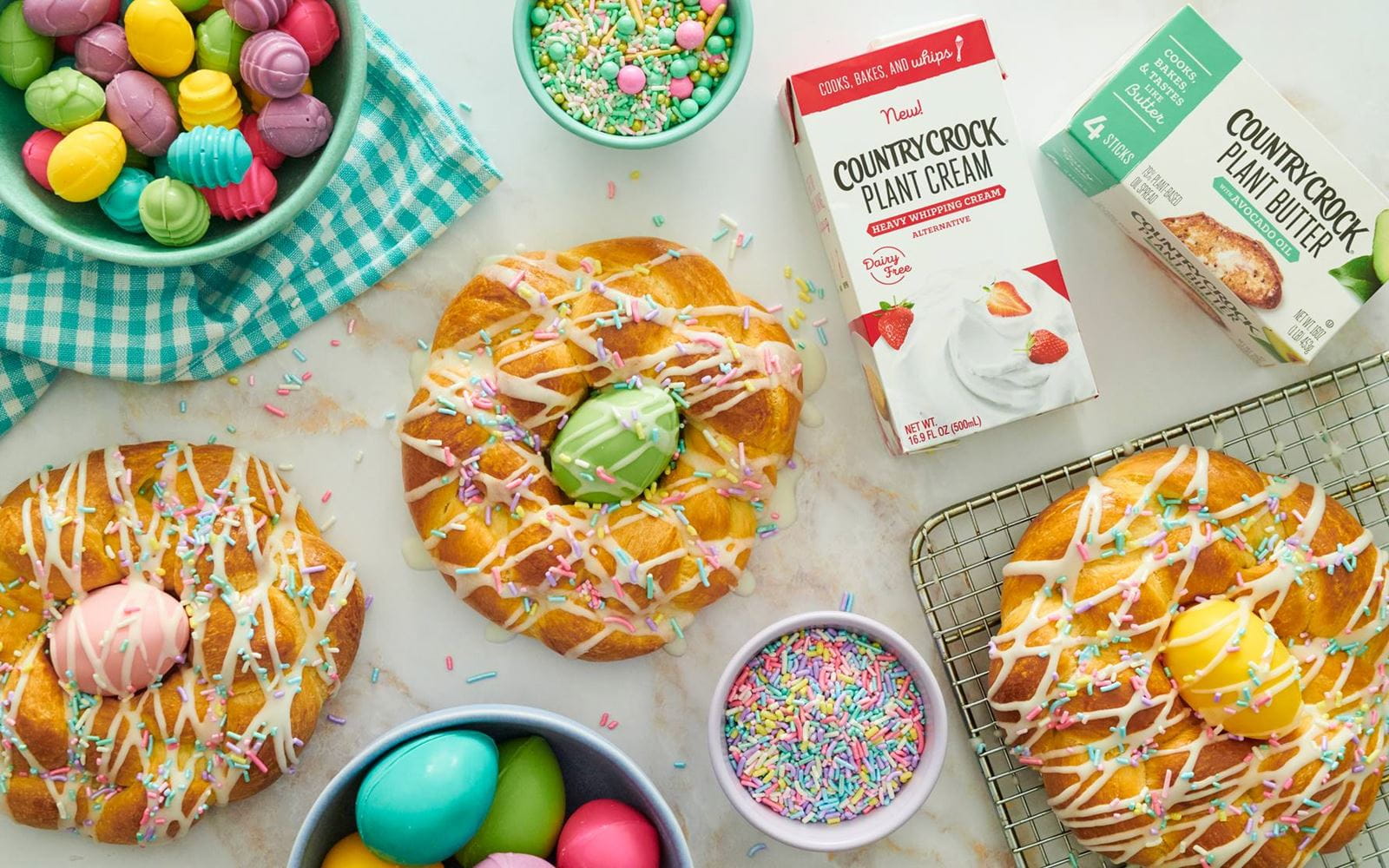 Vegan Easter Bread
Vegan Easter Bread
Be the first to rate this
Prep time

30 min

Ready in

Portions

Portions 6
Ingredients
For The Bread
For The Chocolate Egg
Silicone Egg Mold
2 cups vegan chocolate or candy melts
1/2 cup vegan easter sprinkles, for decoration
For Icing Drizzle
Nutritional Guidelines (per serving)
(Nutrition information is calculated using an ingredient database and should be considered an estimate.)
Instructions
Preheat the oven to 375 F.
In a stand mixer bowl with a dough hook attachment, add flour, sugar, baking soda, active dry yeast, vanilla extract, salt and lukewarm Country Crock© Plant Cream. Knead for about 5 minutes, on low-medium speed, until well combined. The dough should be sticky, but should come off the sides of the bowl.
Now gradually add in Country Crock© Plant Butter, a few tablespoons at a time, and knead until everything is well incorporated.
Knead on high speed, until the dough is smooth and soft. An additional 10-15 minutes.
Take the dough out on a lightly floured surface and shape it into a large ball. Place the dough ball into a bowl, cover with plastic wrap and place in a warm area for 1 to 2 hours to rise, until the dough has doubled in size.
Once the dough is ready, divide into 6 equal portions.
Now take one portion of dough and divide into 3 equal portions. Repeat the same for the remaining portions.
Gently roll each dough piece into a long strand.
Braid using 3 strands, and gently tuck both ends in together to make a wreath shape.
Repeat this process for all the dough strands.
Place the braided wreaths on a greased baking dish, and cover with plastic wrap. Once again, place in a warm area to prove.
Once the wreath doubles in size, brush Country Crock© Plant Cream over the braided wreaths using a pastry brush.
Bake for 20 – 25 minutes, until golden
Meanwhile, make chocolate eggs by adding melted vegan chocolate to a silicone egg mold and refrigerate until set.
Remove the egg halves from the mold, and place 2 halves on a hot plate, flat side down for a few seconds. Join the egg halves to make one full egg by pressing the slightly melted halves together. Repeat the process for the rest of the egg halves. Place them in the refrigerator to set.
Once the wreaths are out of the oven, create a hollow 'nest' shape by pressing the silicone egg mold gently in the middle of each bread, or by gently pressing a weighted egg or round shaped item onto the tops of the wreaths.
Allow the wreaths to fully cool.
While the wreaths are cooling, make the icing drizzle by adding icing sugar, Country Crock© Plant Cream, and vanilla extract. You can add water to achieve the consistency you desire.
Decorate the individual wreaths by placing a chocolate egg in the center of each bread, and then drizzling them with the icing.
Add some vegan sprinkles on top and enjoy the vegan Easter bread!
Tell us what you think below
Please enter your feedback before submit
You have already submitted your review, please change something to update.
Please enter your feedback below 500 characters
Error in submitting your feedback, please try later.
Nothing to add, thanks!
Thanks for sharing your feedback!
This pop-up will close automatically