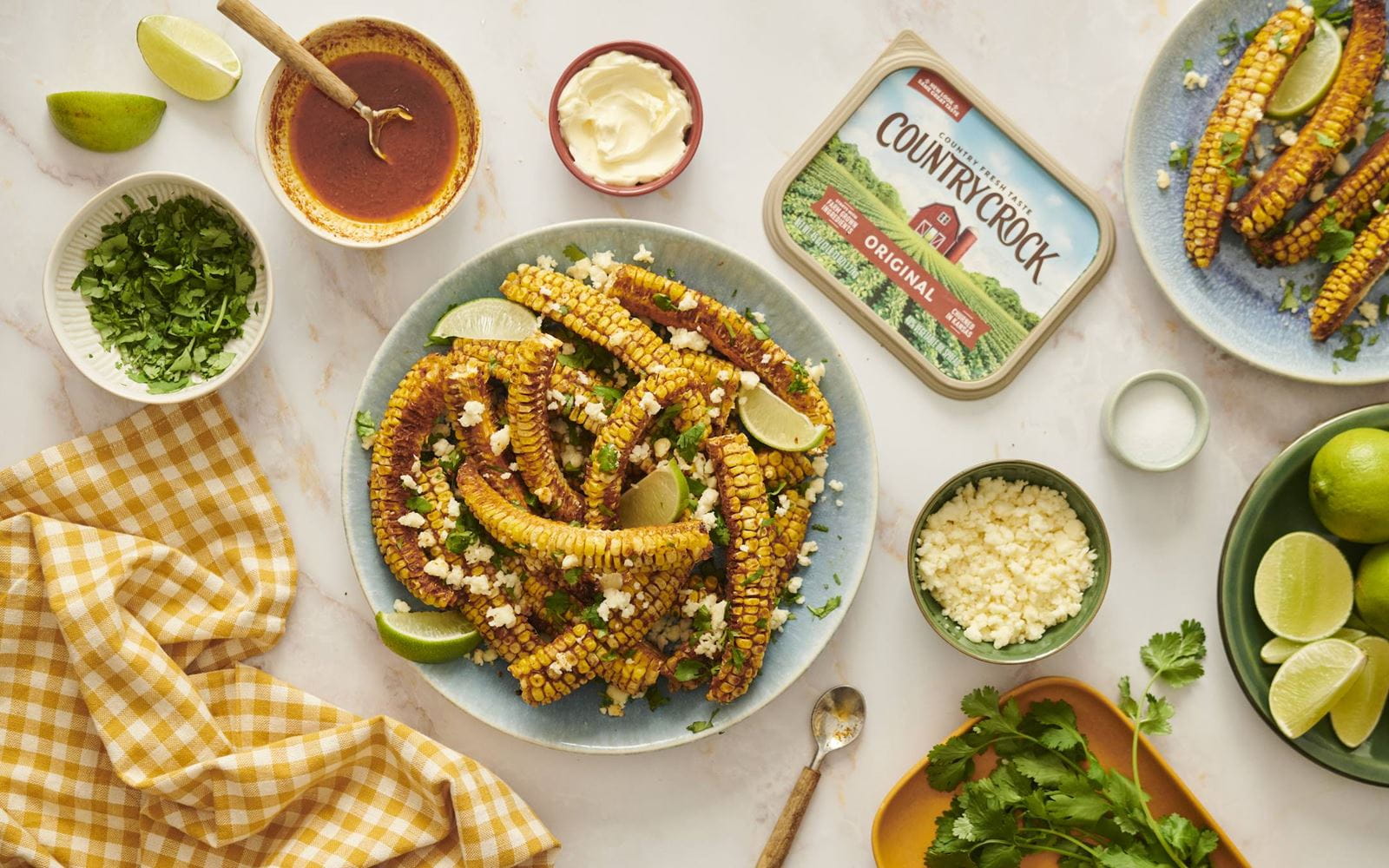 Shareable Street Corn Ribs
Shareable Street Corn Ribs
Be the first to rate this
Prep time

15 min

Ready in

Portions

4

Difficulty

Medium
Ingredients
4 corn on the cob, husks removed

1/2 cup Country Crock® Original Spread, melted

1 teaspoon taco seasoning
1 teaspoon tajin seasoning (or 1/4 teaspoon chili powder)
1 teaspoon paprika
1 teaspoon garlic powder
2 teaspoons salt
1 tablespoon lime juice
1/2 cup Cotija cheese, crumbled
cilantro and lime wedges, for garnish
Nutritional Guidelines (per serving)
(Nutrition information is calculated using an ingredient database and should be considered an estimate.)
Instructions
Preheat the oven to 375 F.
Using a sharp knife, slice the corn in half lengthwise, and then slice the halves into quarters
Add melted Country Crock® Original Spread to a small bowl and then add taco seasoning, tajin, paprika, garlic powder, salt and lime juice. Stir until thoroughly combined.
Arrange corn ribs on a parchment lined baking sheet and brush the Country Crock® spread on the corn ribs.
Bake for 20-25 minutes, until the ribs char and curl.
Once corn ribs are ready, take the baking sheet out from the oven.
Brush the baked corn ribs with Country Crock® spread again.
Plate the corn ribs, sprinkle cotija cheese on top, followed by a squeeze the lime.
Garnish with cilantro and enjoy!
Tell us what you think below
Please enter your feedback before submit
You have already submitted your review, please change something to update.
Please enter your feedback below 500 characters
Error in submitting your feedback, please try later.
Nothing to add, thanks!
Thanks for sharing your feedback!
This pop-up will close automatically