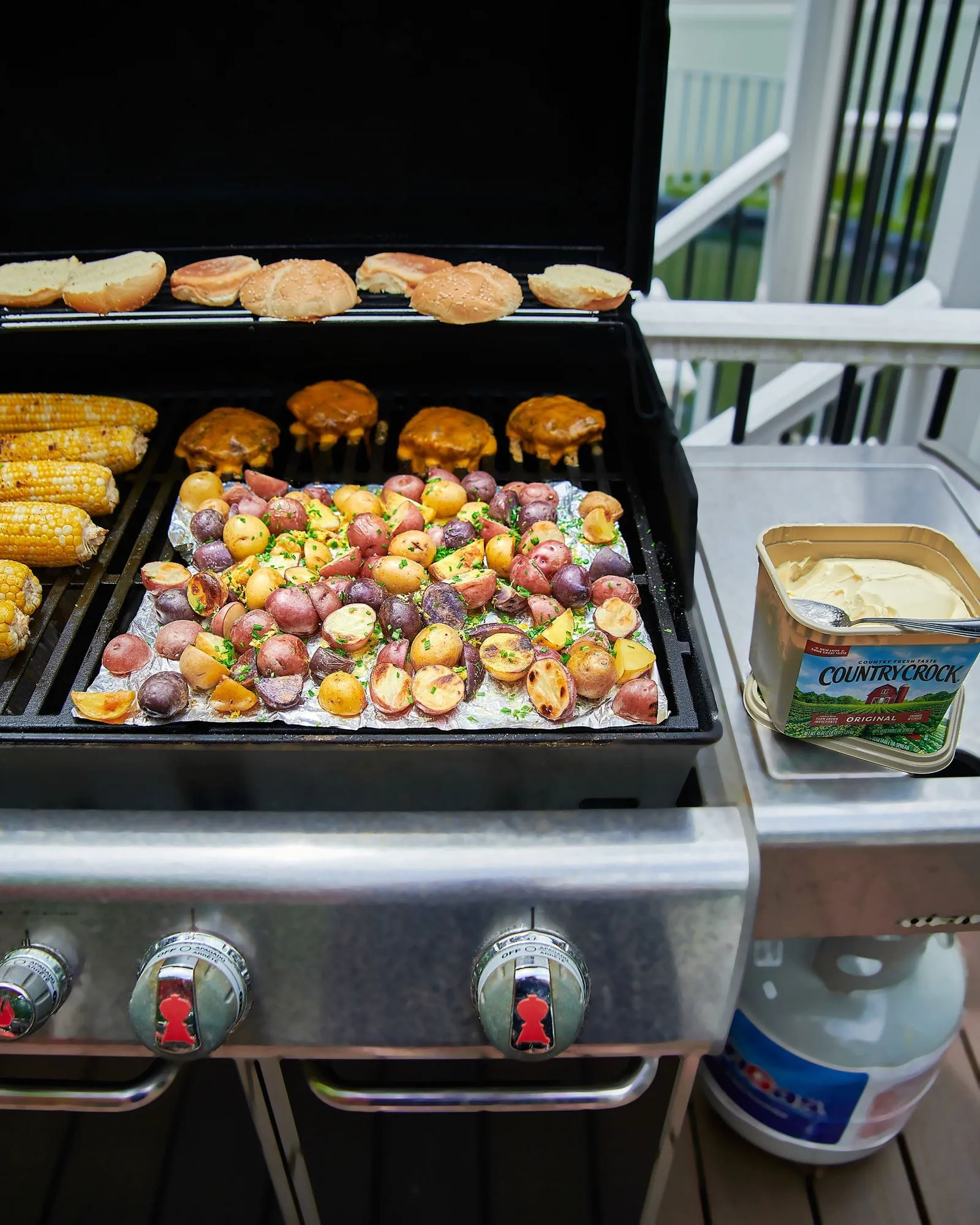 Grilled Potatoes
Grilled Potatoes
Be the first to rate this
Prep time

5 min

Ready in

Portions

6

Difficulty

Easy
Nutritional Guidelines (per serving)
(Nutrition information is calculated using an ingredient database and should be considered an estimate.)
Instructions
Wash and dry potatoes. Cut larger potatoes in half or quarters, so all of the pieces are roughly the same size. Poke whole potatoes with a skewer or fork.
Transfer potatoes to a microwave-safe bowl and tightly cover with plastic wrap. Microwave for 8-10 minutes, or until a small knife can be inserted into the potatoes without any resistance. Drain the potatoes. Be very careful when removing the plastic wrap from the bowl. The steam trapped inside is very hot.
Lay a large piece of aluminum foil on a hot grill. Brush the foil with Country Crock spread. Arrange potatoes in a single layer on top of the foil. Grill potatoes until they are slightly charred - about 15 minutes. Flip the potatoes with heat-safe tongs throughout the grilling process for even browning.
Transfer grilled potatoes to a large bowl. Add Country Crock spread, chives, and lemon zest. Once the Country Crock has melted, stir to coat each potato with the mixture. Serve hot or at room temperature.
Tell us what you think below
Please enter your feedback before submit
You have already submitted your review, please change something to update.
Please enter your feedback below 500 characters
Error in submitting your feedback, please try later.
Nothing to add, thanks!
Thanks for sharing your feedback!
This pop-up will close automatically