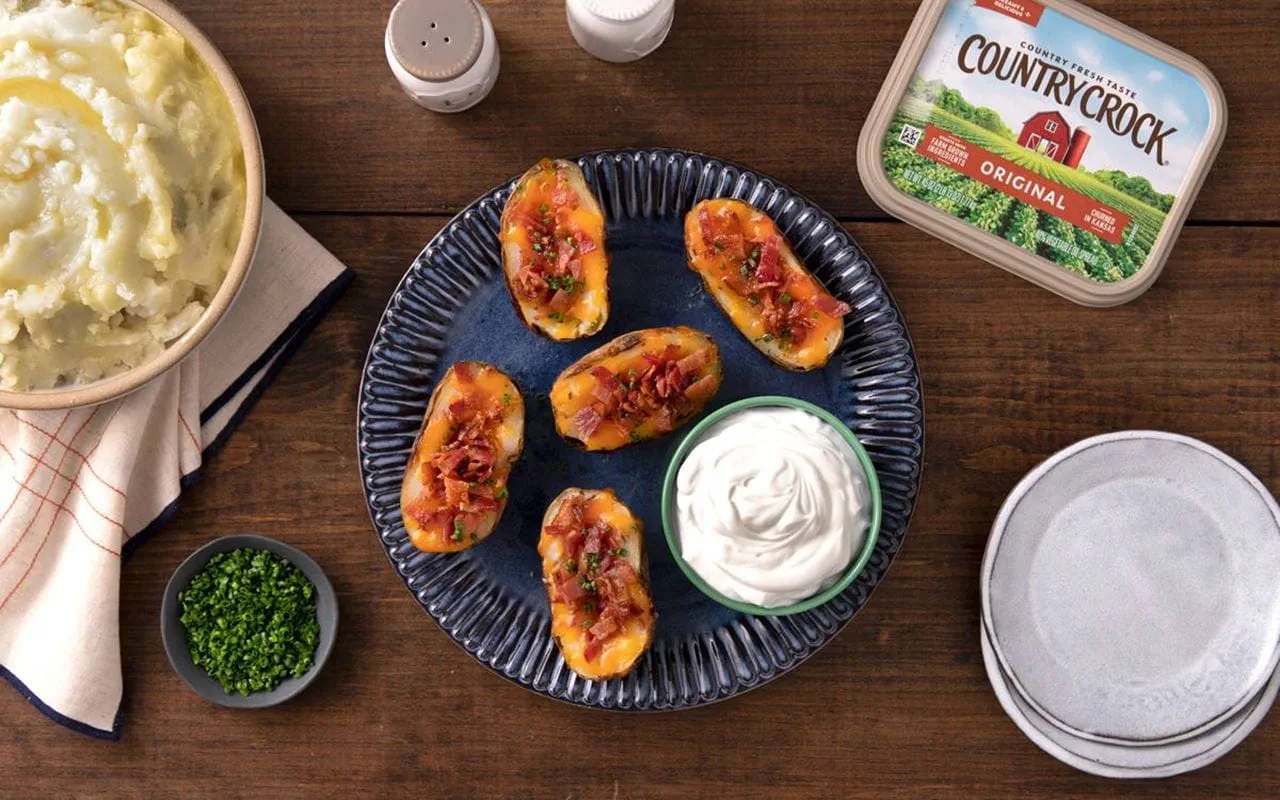 Loaded Potato Skins
Loaded Potato Skins
Be the first to rate this
Prep time

20 min

Ready in

Portions

Portions 8

Difficulty

Medium
Nutritional Guidelines (per serving)
(Nutrition information is calculated using an ingredient database and should be considered an estimate.)
Instructions
Preheat the oven to 400 degrees F.
Melt ¼ cup of Country Crock® Original Spread. Place the potatoes on a baking sheet and lightly brush each potato with the melted Country Crock. Place the tray in the oven to bake for 1 hour. Let the potatoes cool enough so that you can touch them.
As the potatoes are baking, chop the garlic and chives. Cover each with plastic wrap and place in the fridge until ready to use.
When the potatoes are cool enough to handle, cut them in half lengthwise. Using a teaspoon, scoop some of the potato out of each skin, being sure to leave about ¼ inch of potato inside of the skin.
Save the left-over scoops of cooked potatoes to make an easy side dish for another day!
Melt the remaining Country Crock, add the chopped garlic and stir until combined. Brush the entire surface of each potato skin, inside and outside, with the melted garlic Country Crock.
Place the skins back onto the baking sheet, cut side up and sprinkle 2 to 3 tablespoons of shredded Cheddar cheese into each skin.
Chop the cooked bacon and sprinkle 2 teaspoons of bacon onto the cheese.
Broil the skins for 3 minutes or until the cheese is thoroughly melted. Serve hot.
Sprinkle with chives to garnish and serve with sour cream for dipping.
Tell us what you think below
Please enter your feedback before submit
You have already submitted your review, please change something to update.
Please enter your feedback below 500 characters
Error in submitting your feedback, please try later.
Nothing to add, thanks!
Thanks for sharing your feedback!
This pop-up will close automatically