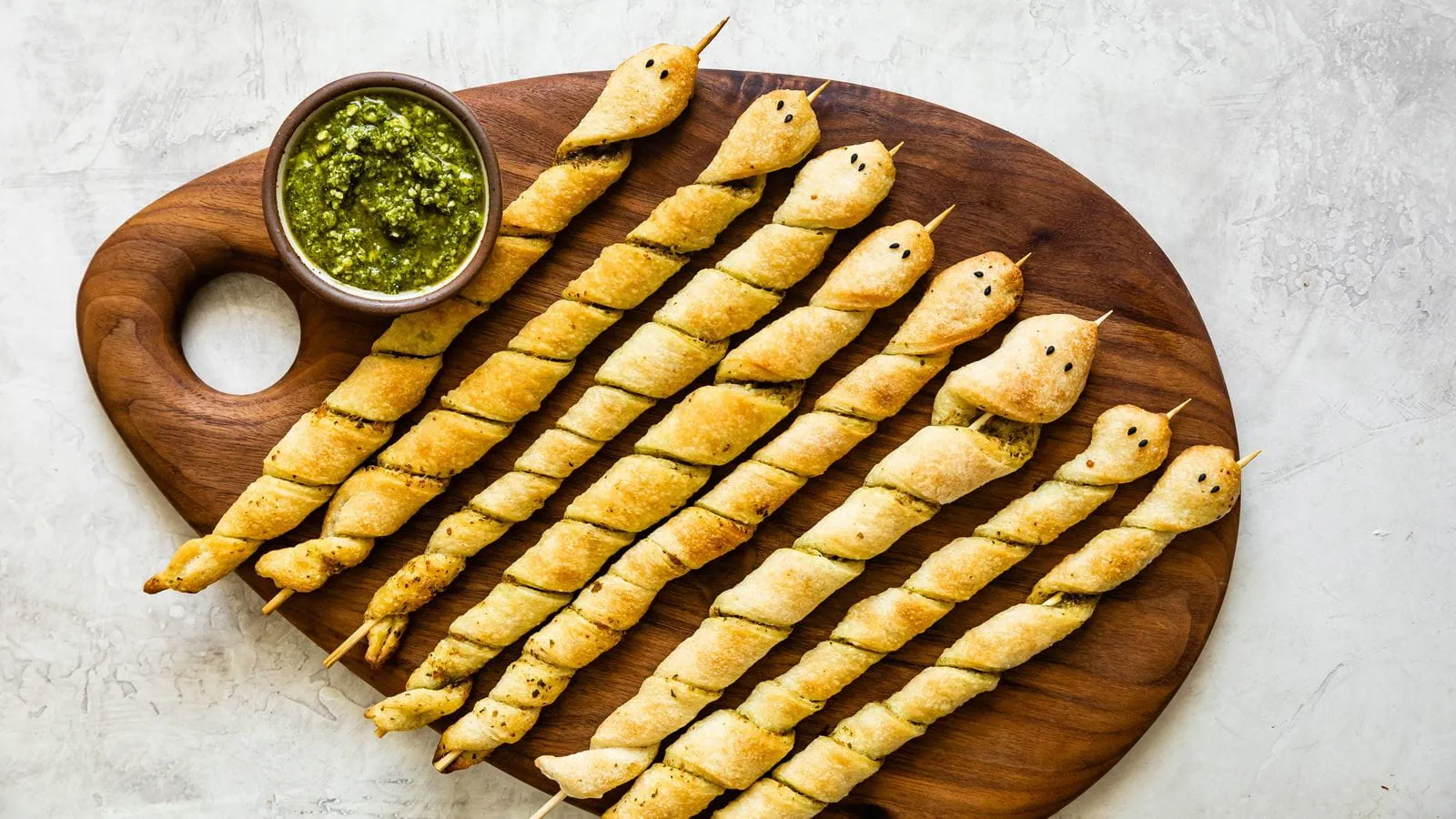 Slithering Snake Breadstick
Slithering Snake Breadstick
Be the first to rate this
Prep time

30 min

Cooking time

12 min

Portions

Portions 12
Nutritional Guidelines (per serving)
(Nutrition information is calculated using an ingredient database and should be considered an estimate.)
Instructions
Preheat oven to 375°F and line a large baking sheet with parchment paper.
On a lightly floured surface, roll out the pizza dough into a rectangle.
Brush the crust with pesto, leaving a 1-inch gap on one long side of the crust and a 2-inch gap on the other long side of the crust.
Cut into 12-14 one-inch wide strips along the long side of the crust (each strip will be a long as the short side of the crust).
Place a skewer on one strip and carefully twist the dough around the skewer so the pesto is facing inward and the tip of the skewer sticks out past the head like a tongue. Shape the 1-inch end into a tail and the 2-inch end into a head. Repeat with remaining skewers.
Brush each skewer with melted Country Crock spread and place two black sesame seeds on each snake as eyes.
Bake for 12-15 minutes, until lightly golden brown. Serve with additional pesto for dipping.
Tell us what you think below
Please enter your feedback before submit
You have already submitted your review, please change something to update.
Please enter your feedback below 500 characters
Error in submitting your feedback, please try later.
Nothing to add, thanks!
Thanks for sharing your feedback!
This pop-up will close automatically