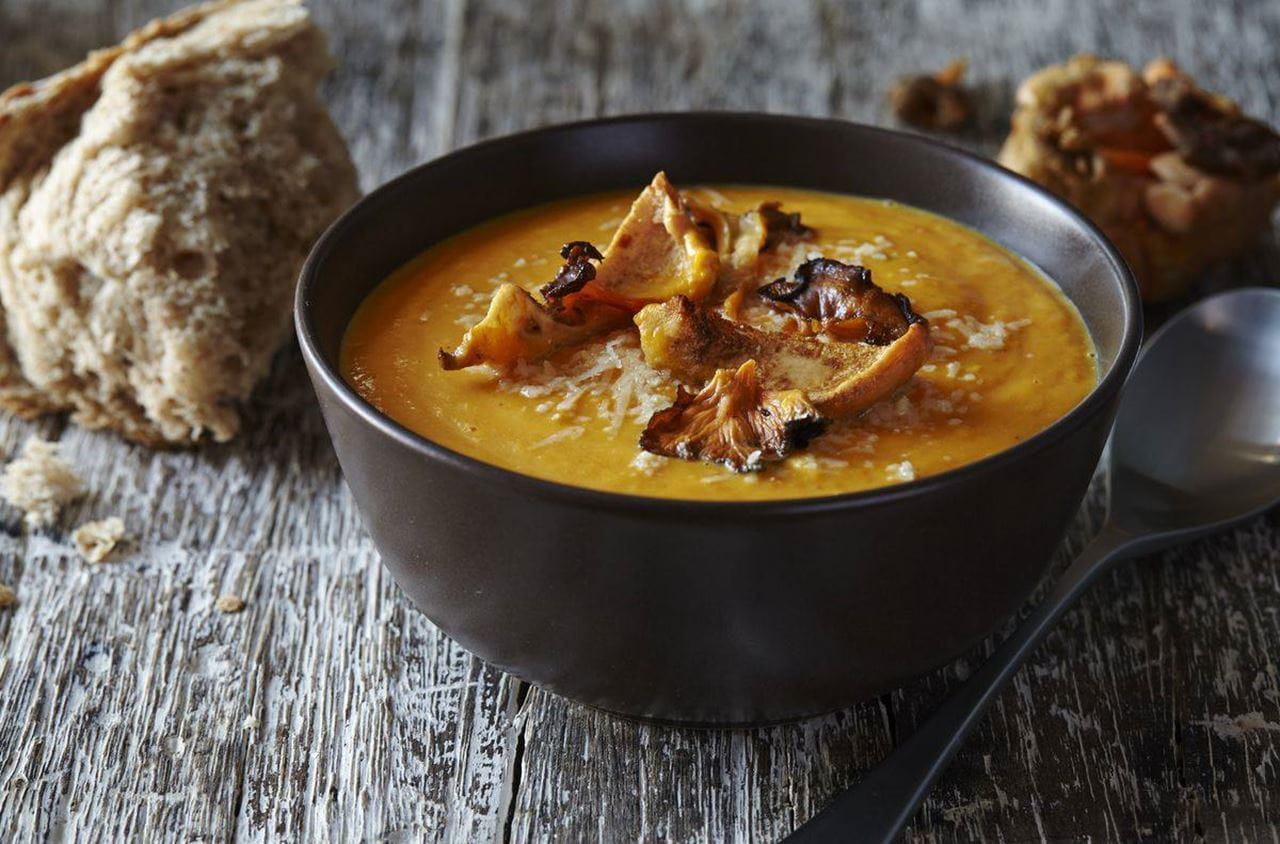 Pumpkin Soup
Pumpkin Soup
Be the first to rate this
Prep time

25 min

Cooking time

1 hr 30 min

Portions

4
Ingredients
1 large fresh pumpkin (about 4 lbs.)
4 Tbsp. Country Crock® Spread
1/4 tsp. ground black pepper
1 bulb garlic, halved
1 large onion, chopped
4 Tbsp. grated Parmesan cheese, divided
2 1/2 cups water
1 tub Knorr® Homestyle Stock - Chicken
1 cup sliced assorted wild mushrooms
1/4 cup heavy cream
Nutritional Guidelines (per serving)
(Nutrition information is calculated using an ingredient database and should be considered an estimate.)
Instructions
Preheat oven to 325°. Cut pumpkin in half and scoop out seeds. Score flesh with knife. Place cut sides up on large baking sheet. Rub flesh with 2 tablespoons Country Crock® Spread and season with pepper. Place 1/2 garlic bulb in center of each.
Roast 1 hour or until tender. Let cool slightly.
When cool enough to handle, scrape out pulp with large spoon. Set aside. Remove skins from garlic cloves. Melt 1 tablespoon Country Crock® Spread in large nonstick skillet over medium-high heat and cook onion and garlic cloves, stirring occasionally, until onion is tender, about 3 minutes.
Stir in pumpkin and 2 tablespoons cheese and cook over low heat, stirring, 2 minutes. Add water and Knorr® Homestyle Stock - Chicken and bring to a boil over medium-high heat. Reduce heat and simmer 8 minutes for flavors to blend.
Meanwhile, melt remaining 2 tablespoons Spread in medium skillet over medium-high heat and cook mushrooms, stirring frequently, until tender, about 3 minutes.
Remove pumpkin mixture from heat and stir in cream. Let cool slightly then puree in blender, in batches if necessary, until smooth. Pour into soup bowls and top with mushrooms and remaining cheese.
Tell us what you think below
Please enter your feedback before submit
You have already submitted your review, please change something to update.
Please enter your feedback below 500 characters
Error in submitting your feedback, please try later.
Nothing to add, thanks!
Thanks for sharing your feedback!
This pop-up will close automatically