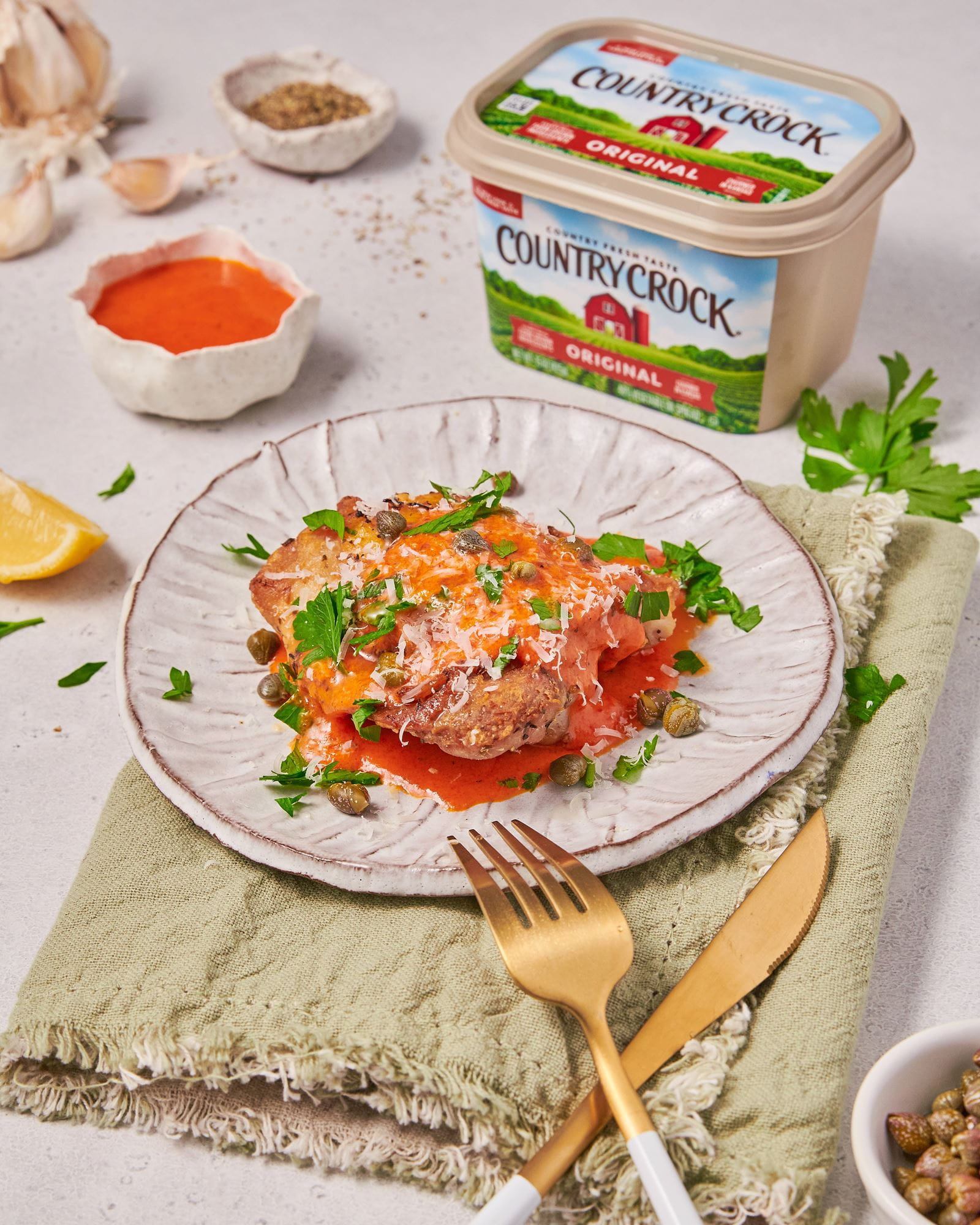 Creamy Roasted Red Pepper Chicken
Creamy Roasted Red Pepper Chicken
Be the first to rate this
Prep time

10 min

Ready in

Portions

4

Difficulty

Medium
Ingredients
Chicken and Roasted red pepper sauce
4 bone-in skin-on chicken thighs
2 teaspoons salt-free Italian seasoning
1 teaspoon kosher salt

1 tablespoon Country Crock® Original Spread

1 cup drained roasted red peppers
1/2 teaspoon chopped garlic
1/4 teaspoon kosher salt
1 cup heavy cream
Optional garnishes for serving
chopped fresh parsley
capers
grated Parmesan cheese
lemon wedges
Nutritional Guidelines (per serving)
(Nutrition information is calculated using an ingredient database and should be considered an estimate.)
Instructions
Toss chicken with Italian seasoning and salt. Cover and transfer chicken to the refrigerator. Allow chicken to marinate for at least 20 minutes, preferably overnight.
Preheat the oven to 425F.
Melt plant butter in a large skillet or frying pan. Place marinated chicken thighs, skin side down, in the hot skillet. Sear chicken until skin turns golden brown and crispy, about 8 minutes. Flip chicken and transfer skillet to the preheated oven. Roast for about 10 minutes, or until internal temperature of the chicken reaches 160F.
Meanwhile, make the red pepper sauce: In a blender or food processor, puree roasted red peppers, garlic, kosher salt, and heavy cream.
Transfer roasted chicken from the pan to a plate, and discard the leftover liquid. Pour red pepper sauce into the pan and simmer over low heat for 10-15 minutes until it thickens.
Return chicken to the pan and coat both sides in the sauce.
Serve with fresh parsley, parmesan cheese, capers, and lemon wedges, if desired.
MORE COUNTRY CROCK ® INSPIRATION ON INSTAGRAM